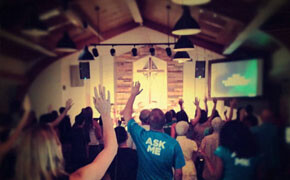 It finally happened! The Lord very divinely led us to our next home, and we are finally on Sunday mornings! But that's not even the best part! But before we get to all the fun details, let me run through a quick history…
[Added October 1st, 2015: This blog post was originally written on August 14th, 2013. Since then, we moved into Light and Life Christian school and were immensely blessed by the school and its staff. During the Spring of 2015, L&L made the big decision to merge with Grace Lutheran School at their location is South Escondido and became known simply as Grace Christian School. This of course meant that the search for a new meeting place began again for us and after much searching with little to no viable options, the Lord graciously opened up an opportunity for us to move to Classical Academy High School in April, 2015. Click here for info on our current service time/location.
Light and Life will always be part of our history as a church and we are so thankful that the Lord in His perfect wisdom and timing gave us the span of almost 2 years there to grow both spiritually and in number and build new relationships with the school, staff and surrounding community.]
Original Post (August 14th, 2013):
Well it finally happened! The Lord very divinely led us to our next home, and we are finally on Sunday mornings! Our start date will be Sunday, August 18th, with our service time at 10am…but that's not even the best part! But before I get to all the fun details, let me run through a quick history…
First of all, this was the 42nd place we looked into. You read that right.
Forty-two.
We had lots of close calls, lots of high hopes for this place or that place, and lots of great ideas, but the first 41 didn't pan out. It was only when we weren't actually looking did God bring this place to us.
A week ago Saturday (the 20th), I was in Mexico with our team visiting our Gospel partners down there, and I got a text from Pete and Kim saying we had to move out our stuff because Gateway Church (who we are currently meeting at on Sunday nights) was having a big moving out work day. So in a bit of hectic rearranging of their days, a few of our folks went over to get stuff moved. It was there that Kim met the head Administrator for Light and Life Christian School in Escondido. He was there because someone in his school goes to Gateway and told him that they'd be selling furniture. Somehow he gets around to offering up his school to be rented out, and for Sunday mornings, even. Funny thing is that Light and Life was one of the previous 41 places that was called, but when we spoke with them, they told us their sanctuary was already being rented. We didn't know, however, that there was a second campus around the corner, and that's the one that was now being offered to us.
So…the details…
Light and Life Christian School in Escondido is located at 1816 Oak Hill Rd. in Escondido right in the middle of a residential area. Tyler Powell, the Administrator for the school, is so excited for the opportunity and has been so gracious and generous. Here's some of the great benefits we'll have at L&L:
The main sanctuary seats about 140. It was built in 1955 and has that era's "upside down boat" architecture that was popular back then (pictures below).
There are plenty of classrooms to use, and the classrooms are great for us.
There is a nice courtyard type area where all the classrooms and sanctuary converge.
My favorite feature is a 2 acre plot of grass behind the school. There are picnic benches, a few big trees, and a huge area for after church picnics, a signature Life Mission wiffle ball game, soccer, football, whatever. We hope to have regular "Bring Your Own Lunch" after-church hang outs, etc.
In addition to these Sunday morning benefits, we ALSO have the ability to use the facility in other capacities.
Friday nights and Saturdays all day are also available to us at no extra cost. We can do community outreaches (L&L is in the middle of a residential area), BBQ's, and other events for the community.
We can also use the facility during the midweek for our GPS Meetings or any future potential youth ministry. We would just have to coordinate with the school schedule ahead of time.
We will have some storage space available, making our setup and teardown minimal. That just means more time for ministry, fellowship, and all the "good stuff."
With Saturdays available, the band can even setup and sound check the day before, minimizing Sunday morning chaos.
The only real "downside" is that the sanctuary only holds 140. Right now, that's great for us. But while we definitely can't predict the future or what the Lord wants to or will do, we hope that by His grace this new facility and all the amazing benefits it offers our church family's ability to impact this community that it will lead to more people coming and hearing the Gospel and becoming part of the local body of Christ.
And if that happens, we will just have faith for the next spot in God's perfect timing. But for now, we give thanks to God for providing more than what we hoped for!
So, check out these pictures and take a little "mini-tour" of our new home.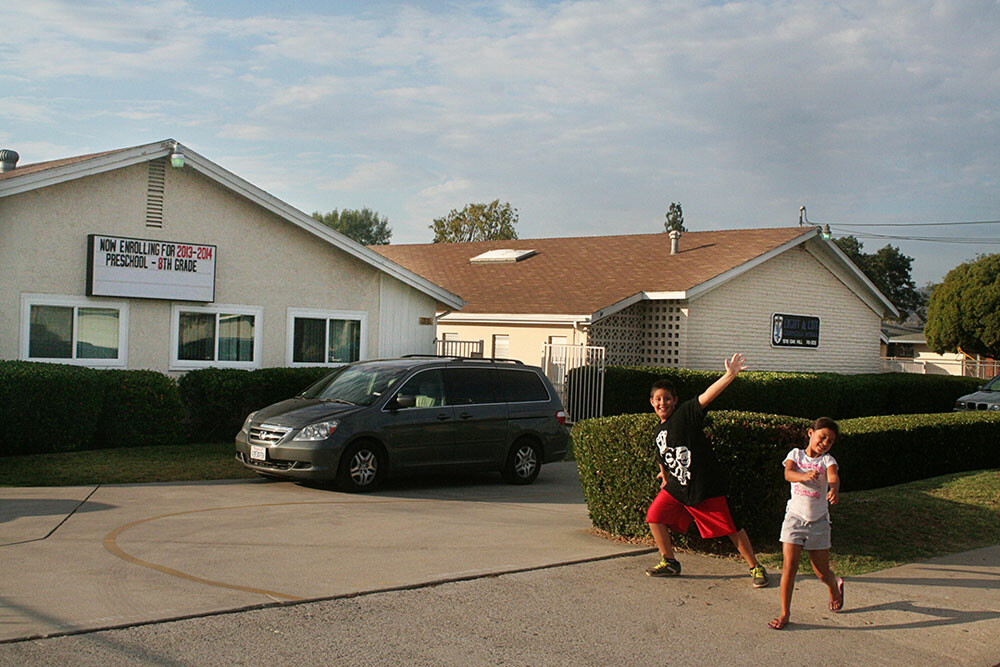 James and Gianna photo-bombing the front of Light and Life.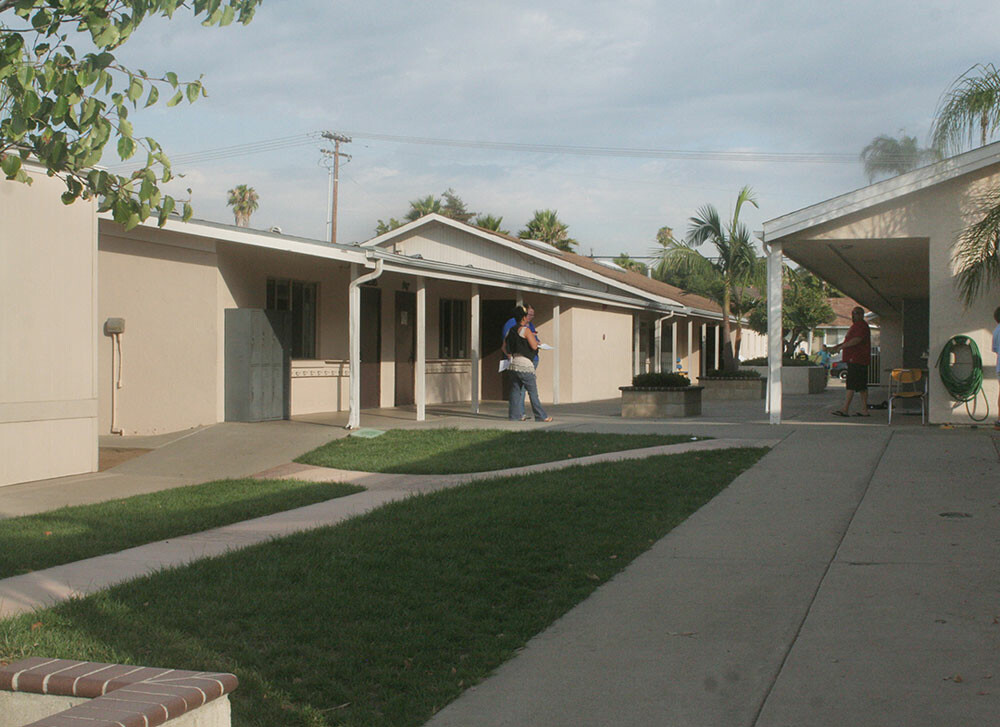 The Courtyard. To the left, where Audra and Kim are, is the sanctuary, and on the right are classrooms. Straight ahead is the street.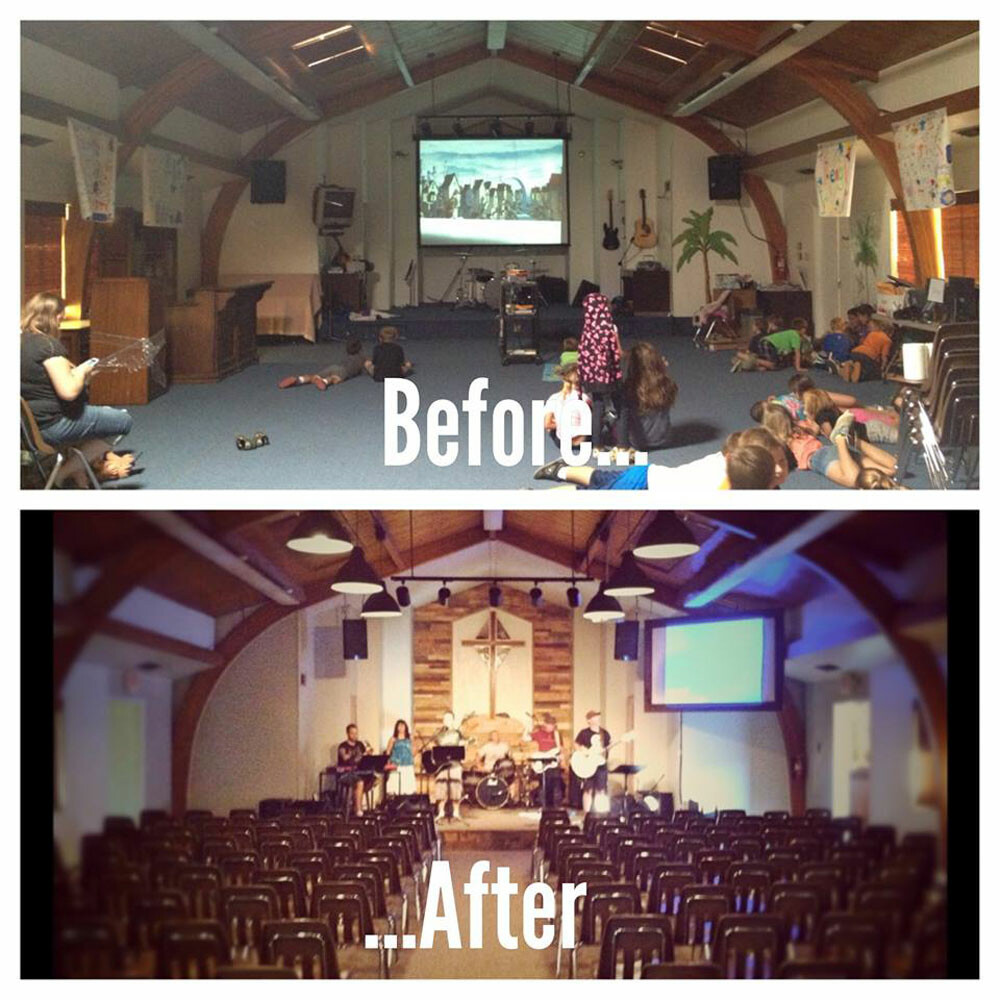 The Main Sanctuary. Notice the awesome upside-down boat, 50′s era architecture. It's totally "us!"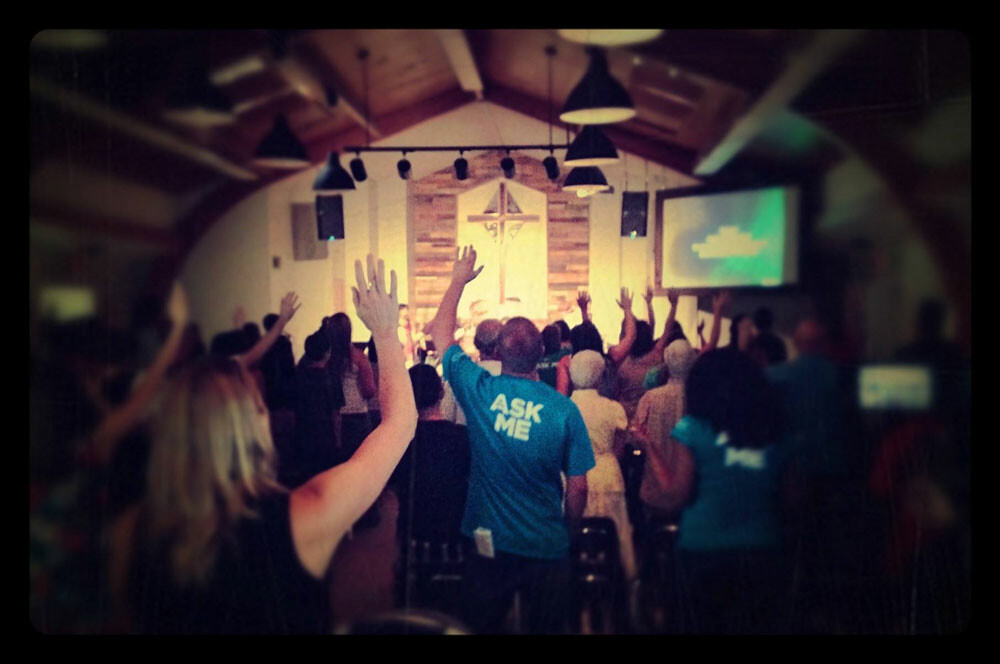 Our first Sunday Morning service ever!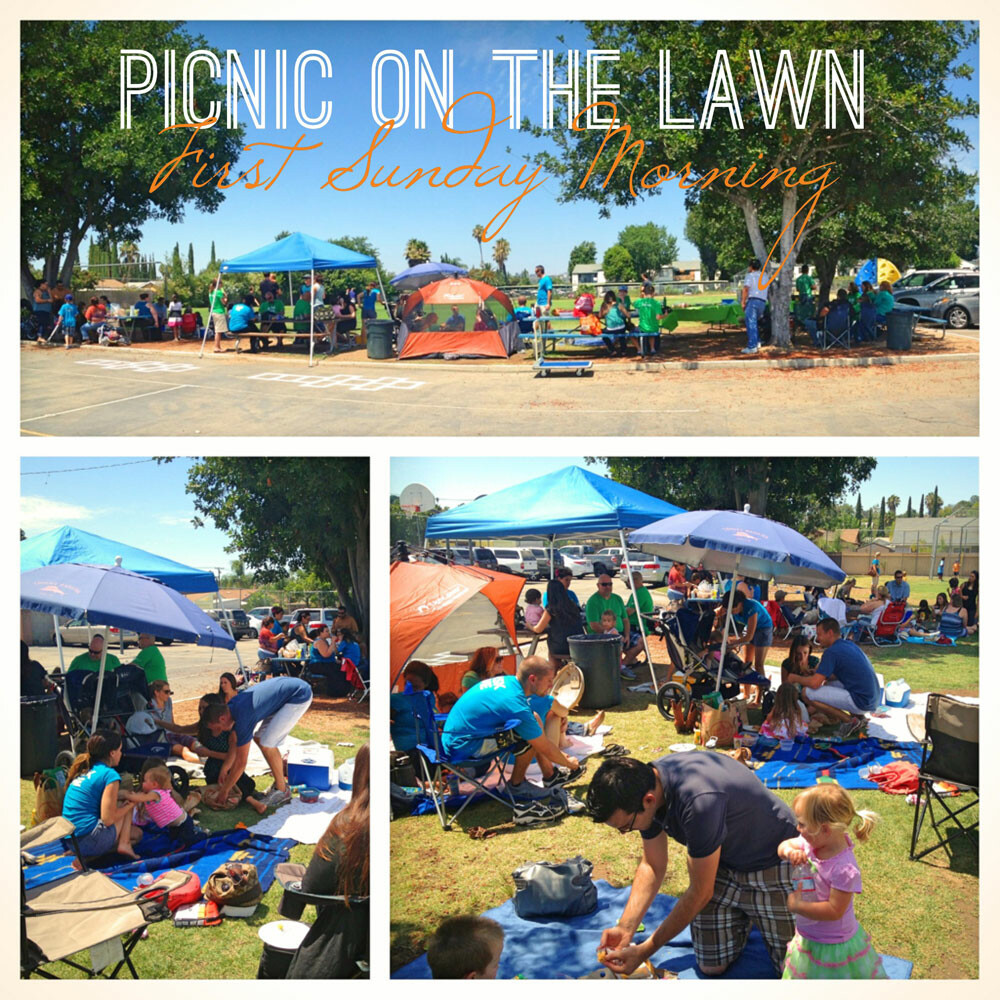 The big 2 acre field affords us to be able to have some great times hanging out as families afterwards. Flag football, wiffle ball, and lots of food!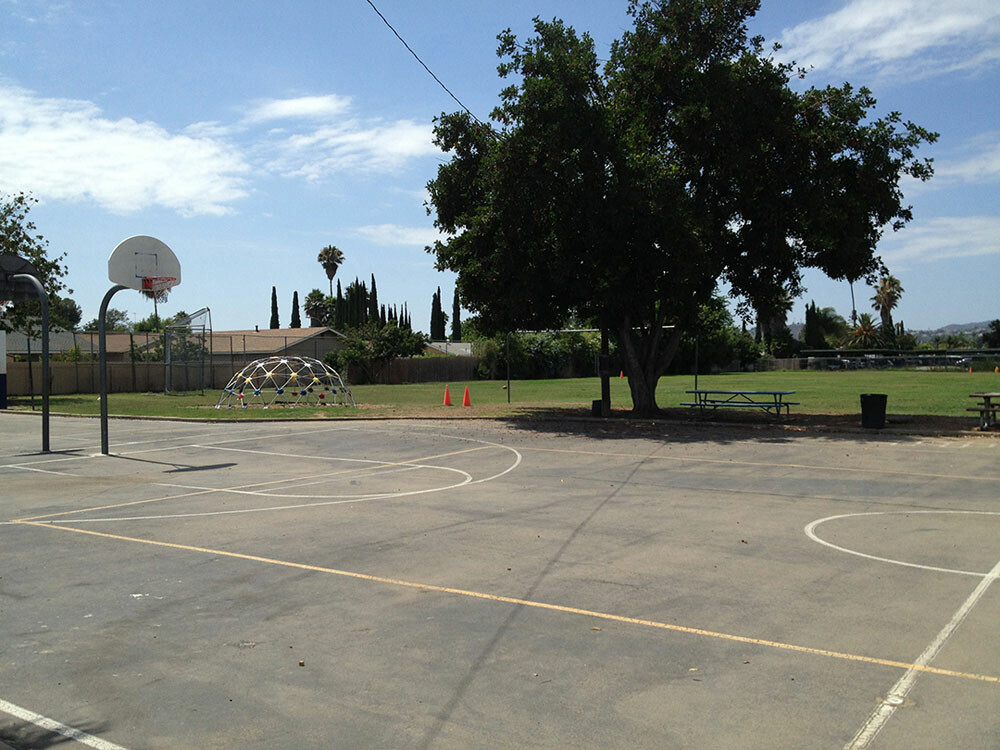 Outside playground area. Basketball courts, picnic benches, playset, and two acres of grass to play on.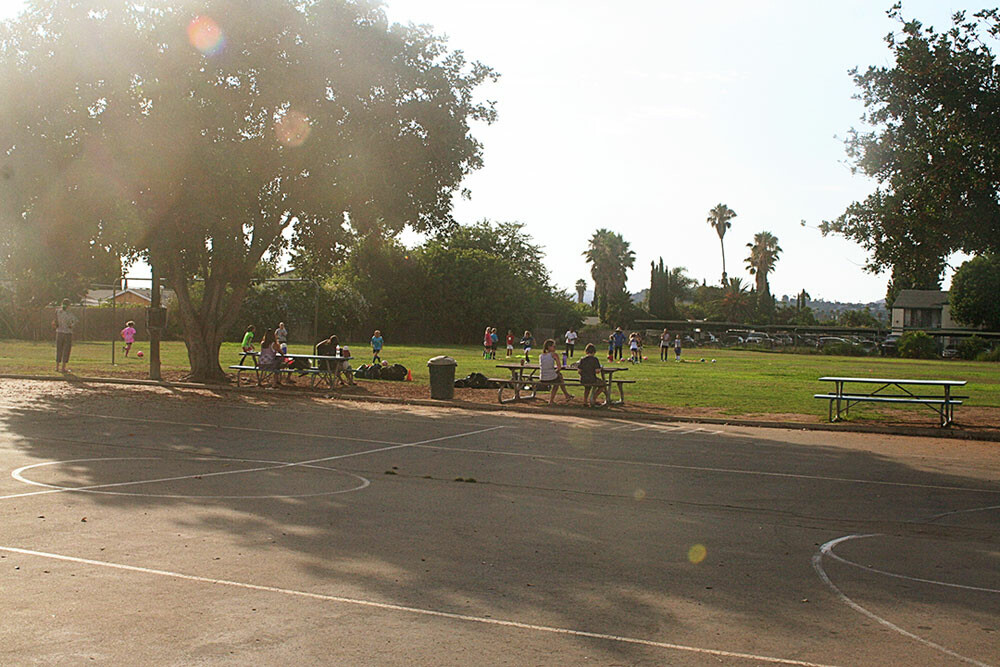 More of the playground.