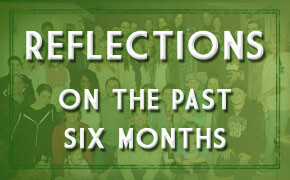 It's been almost six months since we launched Life Mission Church and as our six month anniversary approaches (July 6, 2013), I want to share with you a few things that I have learned as I reflect upon this adventure...
It's almost been six months since we launched Life Mission Church. It has been the most exciting and amazing thing that I have ever experienced and been a part of. It has been the most rewarding and challenging thing I have ever been a part of. And it has been the most faith building thing I have ever been a part of. I could go on forever just about those things, but as our Six Month Anniversary approaches (July 6), I want to share with you a few things that I have learned as I reflect upon the last six months of this adventure. Read previous post here.
I've been passionate about this, in particular, for the past 4 years. The more I read, the more I do marriage counseling, the more I observe the world, the more I pastor, the more I study, the more I go through difficulties, the more I battle sin, the more I worry, the more time I spend with my kids, the more time I live married, the more I pray for direction and vision for the church, the more I am deeply and profoundly amazed at how unbelievably important it is to have healthy, sound doctrine that is consistent with itself from doctrine to doctrine that shapes methodology, practice, vision, mission, lifestyle, counseling, discipleship, leadership, and everything else under the sun.
This began to take its most profound effect on me beginning a little over three years ago. Since then, as I've gained an appetite for the truth of God's Word that grows stronger and more insatiable every day and every year, I've seen how the deep wealth of God's Word has shaped me, changed me, transformed me, and worked miracles within me. In that time, I've grown to love my wife more, my kids more, my church more, my unbelieving friends more, and, of course, I've grown to love the Father, Son, and Holy Spirit more.
In the past 6 months, however, I've seen it in a very focused light. Going into the church plant, I was incredibly excited to teach the mind and preach to the heart, exposing the truth of God into the depths of hearts, seeing then the fruit of His Word grow to great heights. However, I didn't know how well it would be accepted. When confronted with truth, it often hurts. It pushes against our pride, it chides against our own wisdom and logic, and it seeks to destroy many of the ideals that we so strongly hold on to.
So often, we want God to fit in a category that we can fully understand, one that makes sense to us, and one that, to be honest, looks like us, but better. Yet the fact of the matter is that there is "no one like God," and that He is incomparable to anything or anyone else, and the depth of His ways and wisdom can never be known.
This doesn't, and shouldn't, stop us from exploring His depths. Rather, it makes these depths more exciting, yet also more scary. We may find things we don't necessarily like. But like the soreness after cancer removing surgery, or the painful recovery after the birth of a child, when truth offends us, upsets us, convicts us, challenges us, and even turns our idyllic man-made picture of God upside down, the joy and awe and wonder that follows is like nothing else. To behold a truth of God that at once seemed so foreign or so unheard of adds more delight and excitement to our Gospel-expanded hearts.
In these first 6 months, I have never seen a group of people be so challenged, yet so open-armed in embracing difficult truths. It's been mind boggling, because I know that we, as a people, have many idols in our hearts that we hold so dear. But, at the same time, I believe in the power and sovereignty of the Word of God and its ability to do as it wishes, and what I've witnessed in this small family of people in the past half of a year has been nothing but humbling and awe inspiring. We've seen marriages find healing and profound revelation in their lives, secret sin confessed and come to light, hearts and minds become adjusted from self-loathing to Jesus-worshiping, steps of faith in areas of new growth, new service, and new pursuits of ministry and evangelism, and we've seen love for one another grow like nothing else.
The goal of theology is worship.
-Philip Ryken
Having our core leaders growing in doctrinal unity is so hope giving. Seeing our whole church growing in doctrinal unity is other worldly. Seeing our young people grow in doctrinal unity brings me to tears. Jesus said that if we know the truth, the truth will set us free. He prayed to His Father that the Word would sanctify us, the church. The Apostle Paul incessantly instructed the church and her leaders to seek out sound truth for the sake of the health of the church. Why is this? Because healthy, sound doctrine leads to real worship, real sacrifice, real thanksgiving, and real surrender. And a church growing in doctrinal unity will become a church who worships in Spirit and in truth, a church who sacrifices and is generous, a church who gives thanks for all that they have, and a church who is constantly in the battle to surrender themselves to their Savior.